Feel free to use your oven favourite BBQ sauce recipe for this pizza or even shop bought – but the below recipe is a great starting point if you've never made one before! 
BBQ Chicken Pizza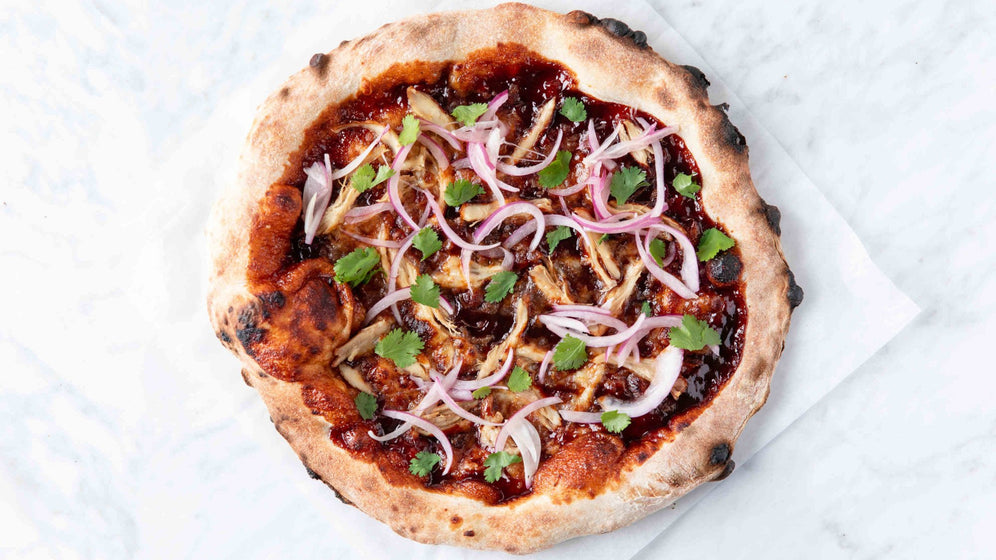 Our cooked chicken was poached thigh as this tends to hold a bit more moisture when being reheated on the pizza, but again, feel free to use your favourite cut…
[start]
1. For the BBQ sauce;
-Use a heavy bottomed saucepan to lightly toast the smoked paprika for 2-3 minutes then add the sugar and honey and allow to caramelise, stirring regularly.
-Still stirring regularly, add the vinegars and turn the heat up slightly to allow these to cook off before adding the orange juice followed by the ketchup.
-Turn the heat down so bubbles are just breaking at the surface and leave to blip away for 15 minutes. Leave to cool before using.
2. For the red onion pickle;
-Make this pickle just as Roccbox is coming up to temperature by combining the sliced onion, salt and vinegar in a bowl and scrunching together with your hand.
3. For the pizza;
-Roccbox needs to be fully saturated with heat with the flame turned down to low- you may need to turn it up slightly in between bakes to ensure the stone floor is at the desired temp (around 420 degrees).
-Open your dough ball into a pizza skin and top with the BBQ sauce, cheese and cooked chicken. Transfer the pizza to Roccbox and bake.
When the pizza is cooked, transfer to a serving plate, dot over some of the red onion pickle and pick over a few coriander leaves.
[end]
1 x 230g Dough Ball (we used our Gozney, New York style dough for this pizza)
45g BBQ Sauce
55g Grated Mozzarella
70-80g Cooked Chicken
For the BBQ Sauce;
1 Heaped Tbsp Smoked Paprika
1/2 Tbsp Honey
1/2 Tbsp Soft Brown Sugar
2 Tbsp Sherry Vinegar
1 Tbsp Balsamic Vinegar
1/2 Orange, juice only
400g Tomato Ketchup
For the Red Onion Pickle;
1 Red Onion, finely sliced
1/2 Tsp Sea Salt
1/2 Tsp Balsamic Vinegar