Beef Short Ribs and Wild Mushrooms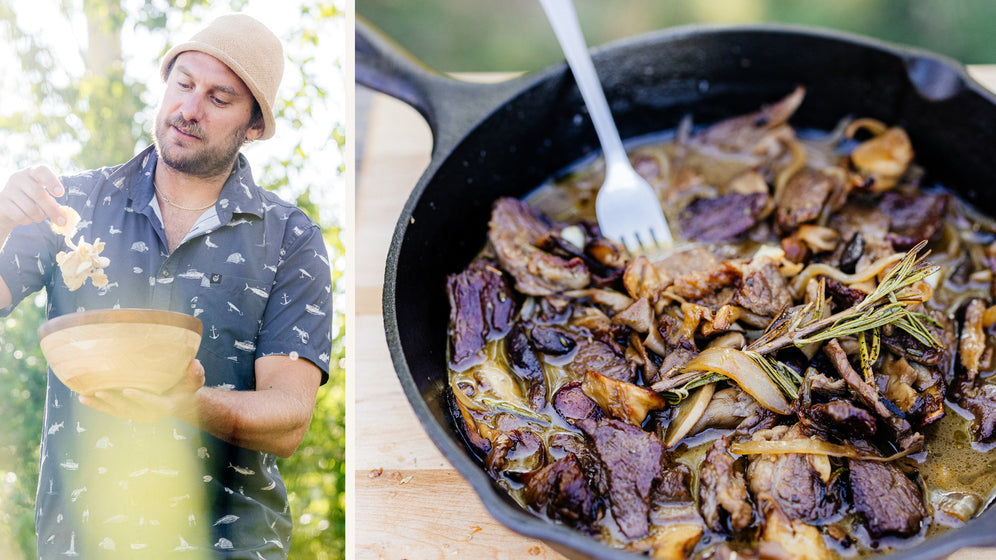 @brad_leone is known for his love of foraging in the great outdoors. In a serene setting of the Utah mountains, Brad combines two of his favorite ingredients – wild mushrooms and beef short rib. All cooked in the limited-edition Brad Leone Roccbox.
Ingredients
450g/16 Oz Mushrooms (of your choice). Brad uses: Oyster, Shiitake, King Trumpet and Beech Mushrooms
Beef broth (to taste and texture)
Show more
Step 1:
Heat a cast-iron pan in the Roccbox at around 400°C/750°F.
Step 2:
Slice 1 onion and your selection of mushrooms.
Step 3:
Place into the pre-heated cast iron pan with a splash of olive oil and cook in Roccbox, stirring regularly, until everything has cooked down.
Step 4:
Whilst the mushrooms and onions are cooking, chop down some dried Oregano and Rosemary into some rock salt. Crush and slice two cloves of garlic.
Step 5:
Cut the beef short rip into thin slices. Remove the onions and mushrooms from the cast-iron pan and place to one side. Add the beef strips into the pan and place into Roccbox.
Step 6:
Once cooked through, remove from Roccbox, and add the onion and mushroom mix back in, along with the rosemary salt and some beef broth. Cook down for a further 5 minutes in Roccbox on a low heat. Add more beef broth if needed.
Step 7:
Serve and enjoy!
Recipe Contributor
Brad Leone
Brad Leone is a bona fide Swiss army knife - a trained chef, avid outdoorsman, skilled carpenter, entrepreneur, author, fermentation addict and beloved-by-millions internet star. He brings the fun to cooking with fire and has most recently collaborated with Gozney to launch a special edition Brad Leone Roccbox.