Camembert Tear and Share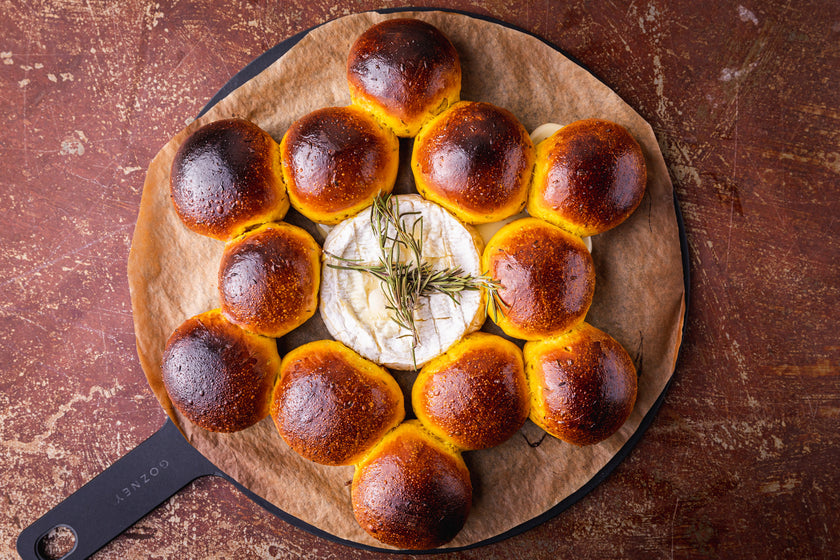 These golden buns of goodness that surround by an oozing, Camembert, are a bread and cheese lover's dream. Created by the queen of baking (quite literally when she won The Great British Bake Off in 2016) @candicebrown, she describes this recipe as both 'stunning to look at and eat'.
Cooked in Dome, these little buns only take around 10 minutes to become golden brown and fluffy.
Ingredients
8.12 floz lukewarm whole milk
0.9 oz unsalted butter, melted
7.1oz strong white bread flour
7.10z plain flour, plus extra for dusting

1.2 tbsp golden caster sugar

2 eggs, 1 beaten for egg wash
Show more
Step 1:
 Stir the sugar through the warm milk until dissolved and then add the yeast on top and set aside.
Step 2:
Combine both types of flour in the large bowl (or a free-standing electric mixer fitted with the dough hook) and make a well in the centre. Add salt, cumin seeds and turmeric.  
Step 3:
Add the egg to the well of the dry ingredients and pour three quarters of the warm milk, sugar and yeast into the well. Mix on a low speed for about 2 minutes until all the flour has been incorporated. Increase the speed to medium. If the mixture is looking too dry, add some more warm milk and yeast mixture. Mix for about 7-8 minutes until you have a soft, stretchy dough that you can see through if held up to the light.This can also be done by hand.  
Step 4:
Lightly oil a large bowl, add the dough and cover it with clingfilm. Leave in a warm place to rise for about 2 hours or until doubled in size.
Step 5:
 Lightly oil a work surface. Push your fingers into the risen dough
 to knock the air out, then turn the risen dough out on to the work surface and fold it over itself a couple of times. Divide the dough into 13 equal portions. Fold and pinch the edges in while turning so you have a seam. Turn over so the seam is on the bottom and create a cage with your hand with the dough ball underneath and roll so you get a smooth ball shape. Repeat with all thirteen pieces.
Step 6:
Arrange in an equal star shape with room for a camembert in the centre. Space just slightly apart so they can grow and puff up.  Put the camembert in the centre. Place the tray in a large bag, enclose the air inside and place somewhere warm for 45 minutes to 1 hour until the dough has doubled in size or springs back to touch. 
Step 7:
Preheat the Gozney Dome to 250-300°C.
Step 8:
Brush each roll with the beaten egg and score the camembert with a sharp knife, wedge a piece of rosemary, garlic and then drizzle with olive oil and sea salt.  
Step 9:
Bake for 10-15 minutes until golden brown and risen. Once the buns have coloured use the ruler to turn the rolls so they evenly brown. Once they have colour. Loosely cover with foil to stop them burning.
Step 10:
Remove carefully and allow to cool for a few minutes. Tear, dip and share while warm.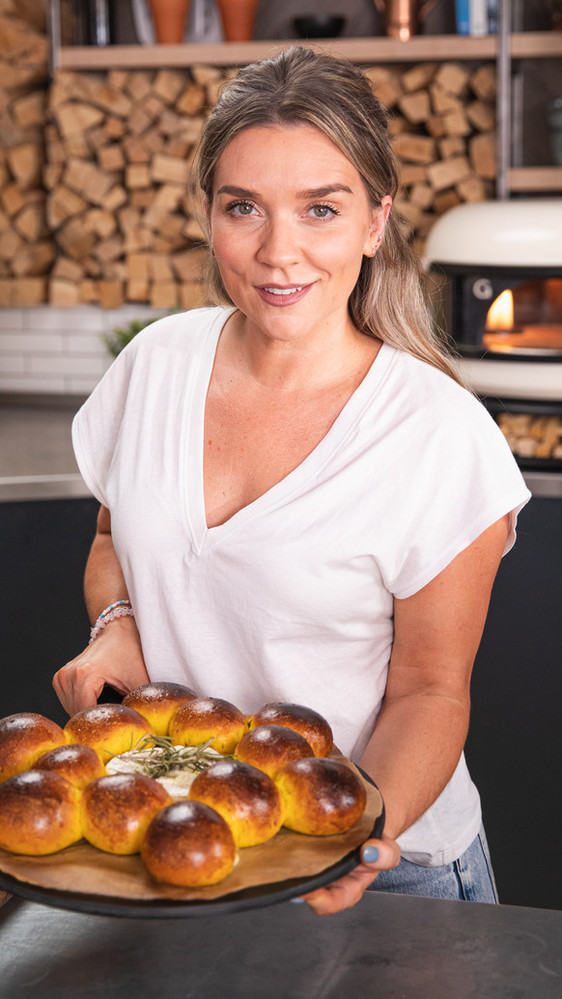 Recipe Contributor
Candice Brown
Candice Brown (@candicebrown) is a Great British Bake Off Winner, successful pub owner, author, mental health campaigner, and cook. Yep, she does it all. Candice describes cooking as a process she loves from start to finish, creating hearty, home-cooked recipes, especially in her new book 'Happy Cooking'.