Cheesy Potato Garlic Bread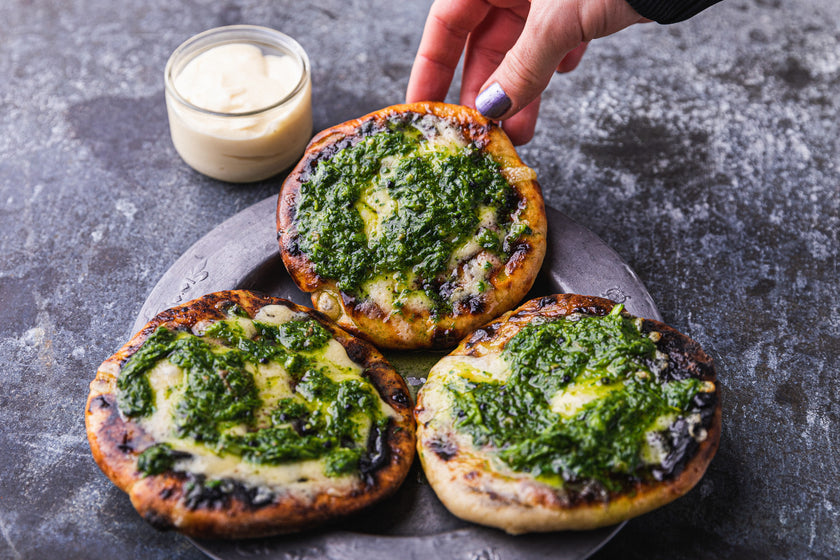 You heard it right, fermented potato flatbread. It's light, fluffy and comes with a wild garlic sauce that packs a punch.
This incredible alternative to a traditional dough, is the making of culinary king and our favourite Brummie legend @chefbradcarter.
Ingredients
375g/13 Oz Mayan gold potatoes
300g/11 Oz strong flour

150g/5.3 Oz yoghurt

12.5g/0.5 Oz salt

120g/4.2 Oz wild garlic leaves, washed & chopped

80g/2.8 Oz parsley leaves, chopped
4 salted anchovy fillets, chopped

240ml/8.1 Fl Oz olive oil

30ml/1 Oz wild garlic vinegar

40g/1 Fl Oz wild garlic capers

200g/ 7 Oz single cream
½ tbsp / 0.6 US tbsp cornflour

160g/5.5 Oz Ogelshield cheese, grated
Show more
For the fermented potato:
Step 1:
Boil the potatoes in their skins until tender. Peel the potatoes, weigh 8g salt and add to the potatoes. 
Step 2:
Place into a sealed container or vacuum pack bag and leave to ferment at 30°C/86°F for 10 days.  
Step 3:
The day before you want to eat the bread, in a mixer, mix the potatoes, flour, yogurt and remaining salt (on top), until you have a bread dough consistency. Leave to prove in the fridge for 24 hours. 
For the cheese fondue:
Step 4:
Add the single cream to a sauce pan and heat, mix the cheese with the cornflour and add to the cream. Whisk together until melted and cook for around 4-5 minutes, set aside & cling film to stop a skin forming. 
For the wild garlic green sauce:
Step 5:
Add all the ingredients to a blender or pestle and mortar & blitz or pound to your desired consistency, check seasoning, set aside.  
For the final flatbread:
Step 6:
When you are ready to bake the bread, roll out 200g balls of the dough then roll out to 1cm thick. Cook the bread in the Gozney Dome or Roccbox at 300°C/572°F until puffed on one side, then flip & repeat on the other side. 
Step 7:
Add the grated Ogelsheild cheese to the potato bread & flash heat in your Gozney Outdoor Pizza Oven, until the cheese is melted. Remove the bread from the oven & dowse in the wild garlic sauce and the cheese fondue. 
Step 8:
Serve and enjoy.  
Okay, it is time to turn your Gozney Outdoor Pizza Oven on and get to work! Why don't you share your work with us, just use the #gozneykitchen!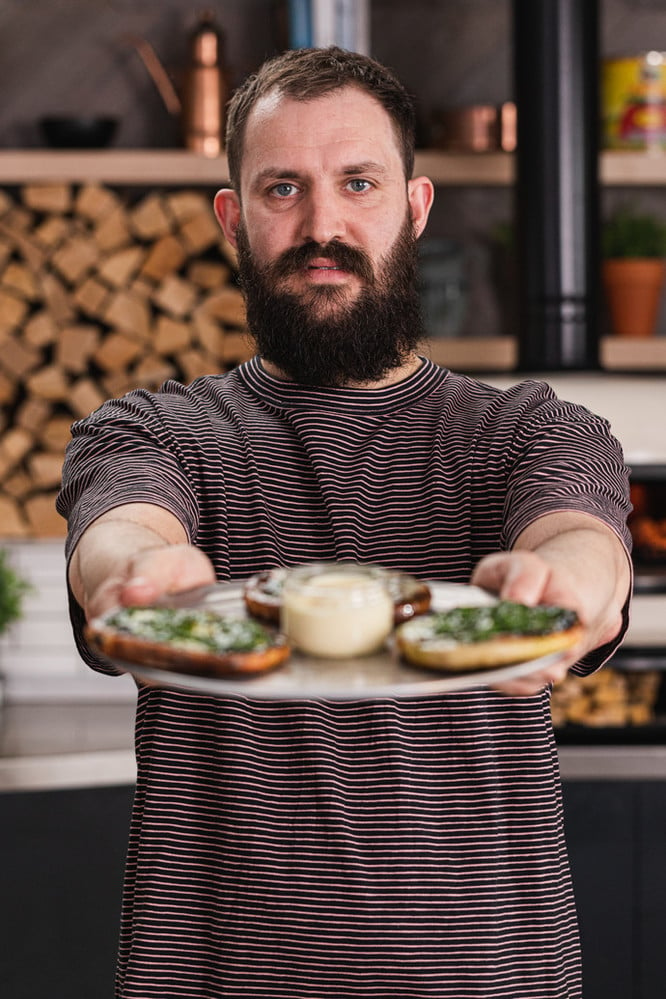 Recipe Contributor
Brad Carter
Our favourite Brummie Brad Carter is a regular in the Gozney kitchen. With a Michelin star restaurant and a Kebab shop to his name, Brad is known for creating culinary masterpieces, and turning food into art.