Pork Belly Sisig Recipe
Grab a cold beer and take a moment to try Ferdinand 'Budgie' Montoya's awesome Pork Belly Sisig.
We had Budgie, Founder of Sarap restaurants down to Gozney HQ to cook up a whole host of Filipino dishes, and this Pork Belly Sisig recipe is full of flavour and super easy to make - all fired up in Roccbox.
500g Pork belly skin on (bone out)

30ml Soy sauce

30ml Calamansi juice

60g Mayonnaise

1 Medium sized egg
2 Calamansi (1 lime as substitute)

1 Red onion finely diced

3 cloves chopped garlic

2 birds eye chilli finely sliced

2 sprigs spring onions finely sliced (keep green top separate as garnish)
Salt

Fresh cracked black pepper

2 tbsp veg oil
Show more
Step 1:
Preheat your Gozney outdoor oven to 200°C.
Step 2:
Slice the pork belly into 4 equal sized strips, season with salt and pepper. Roast on a tray until tender, flipping a couple of times so it doesn't burn (approx 25 - 30 mins).
Step 3:
Once the pork belly is cooked, remove from the Roccbox and allow to cool completely. Once cooled, chop the belly into small pieces (you can be very rough and random here).
Step 4:
Heat up a frying pan in your Gozney outdoor oven before adding veg oil. Next, add the oil and when it's hot, sauté 3/4 of the red onions until they become translucent.
Step 5:
Add garlic and sauté until soft before adding in 3/4 of the chilli, spring onion (white part) and pork. Sauté for about 4-6 minutes.
Step 6:
Next add the soy sauce and mayonnaise and cook for approx 6-8 minutes. Remove from heat and then add the calamansi juice and season to taste. Combine with the sisig mix. Set mix aside.
Step 7:
Increase the heat of the Roccbox and place a cast iron sizzling plate in until it's very hot or when you're ready to serve.
Step 8:
When the sizzling plate is ready, Place it on a wooden base. Add your sisig mix along with the remaining onions and chillies onto the hot plate. Make a small indent in the middle and crack the egg into it.
Step 9:
To serve, whilst the sizzling plate is still hot, break the egg yolk and mix to cook out the egg. Sprinkle with the sliced green part of spring onions.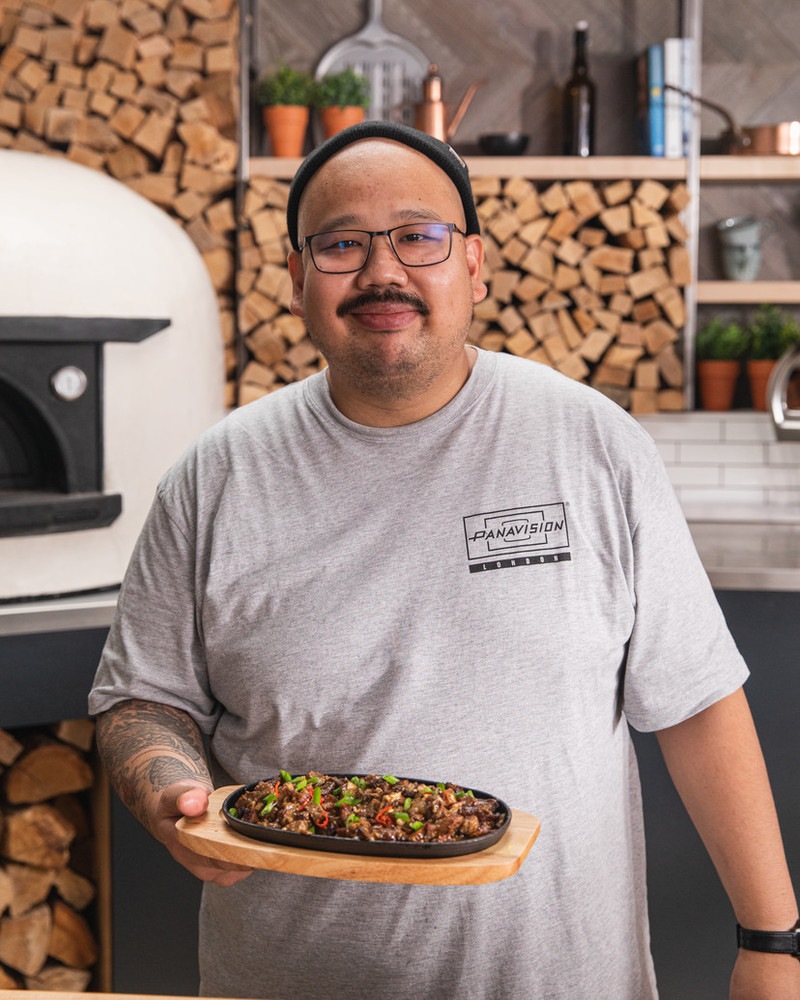 Recipe Contributor
Ferdinand 'Budgie' Montoya
Ferdinand 'Budgie' Montoya is the king of Filipino food and founder of restaurant Sarap in London, celebrating his heritage to deliver authentic flavours delivered proudly inauthentically.