Tavern Style Pizza
Tavern Pizza. It's thin, crispy, and perfect alongside a cold beer. Another Mike Fitzick @pizza_jew classic from his bakery @bakeria1010.
Sometimes referred to as 'Bar Pizza', Tavern pizza has become increasingly popular in US cities such as Chicago and New York. The theory behind this style of pizza, is drinkers will have plenty more room for beer and other alcoholic drinks if the crust is thinner, as there won't be as much dough to take up room in your stomach.
With a beautifully simple tomato base and fresh mozzarella, this is a simple recipe to nail in your Gozney Dome or Roccbox and enjoy with friends.
Ingredients
800g/28oz tomatoes

1 big, crushed garlic clove

4.2g (tsp) / 0.15oz oregano

4.2g (tsp) / 0.15oz salt
Fresh mozzarella

Basil

Parmesan
500g/17.5oz AP flour

12.5g/0.5oz sea salt

3.5g/0.12oz compressed yeast

5.5g/0.19oz sugar

40g/1.4oz olive oil
300ml/10.1 floz water cold (low 62%)
Show more
Step 1:
Add yeast to the water and quick mix to combine. Then add in flour and mix to combine for 5-7 minutes using a dough mixer. It can be mixed by hand too, however this will take longer. Ensure you scrape down the mixer as you go.
Step 2:
Rest for 5 minutes before turning mixer onto high and slowly adding 30ml of water (not all at once).
Step 3:
Add the salt and sugar and mix for a further 5-7 minutes.
Step 4:
Place dough into an oiled bowl, cover, and place in the fridge for an hour.
Step 5:
Remove, then ball the dough and place in the fridge for 24-48 hours.
Step 6:
Open the dough out, top with sauce, and add a handful of mozzarella, basil and parmesan.
Step 7:
Bake in your Gozney Pizza Oven at around 400°C/750°F (low flame until golden brown).
Step 8:
Slice and enjoy.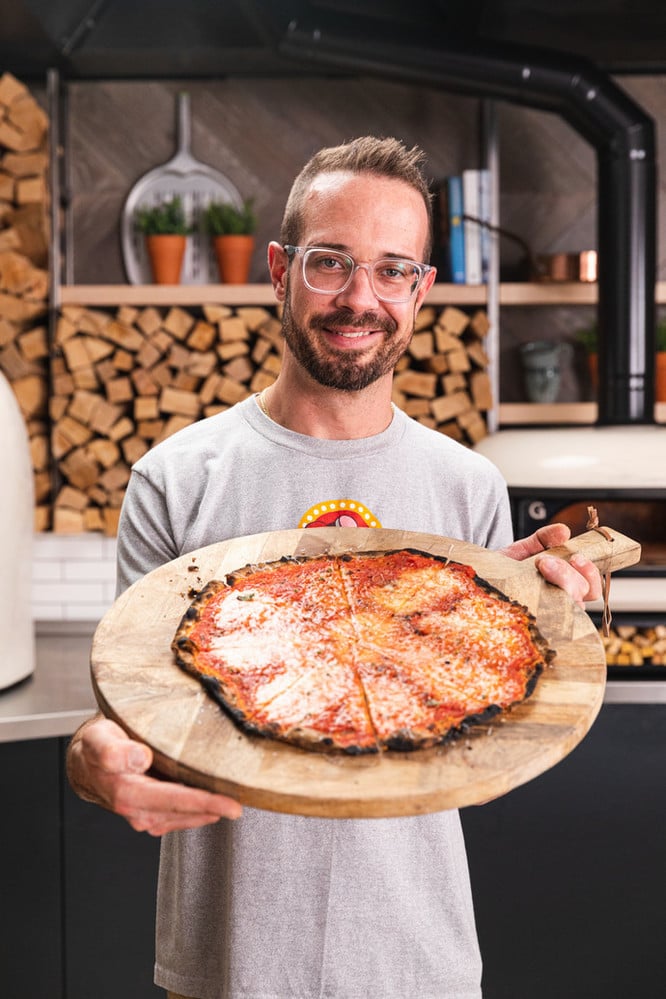 Recipe Contributor
Mike Fitzick
Mike, who runs the show at Bakeria 1010 in New Jersey, is famous for his classic pizza recipes. Square, round, deep pan, Neapolitan – you name it, Mike does it!