Thomas Bateman Roast Beef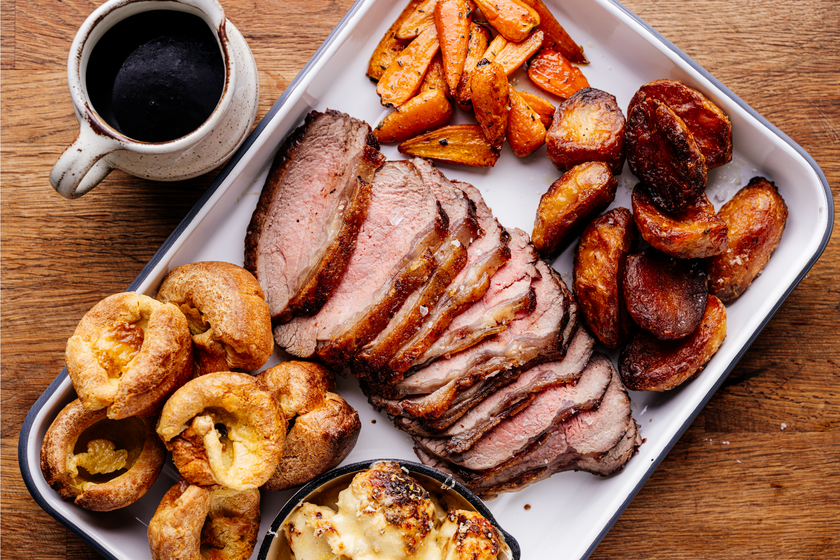 Roast beef dinner, with all the trimmings by @chefthombateman. The perfect winter warmer cooked in Dome.
Tips from Thom: 
This guide will give you framework to nail it at whatever temperature. Cook to temperature, not time, always! 
 Beef cut - "Now I prefer sirloin and there are two main reasons for this: it's incredibly tender when cooked well but also even though it's a little more expensive than say a rump roast… there is so little wastage you get exactly what you pay for." 
 
Preparation - "A bigger piece of meat will inevitably take longer to come up to room temperature so keep this in mind. People talk about it not making a difference, but for me it makes a massive difference. On a big piece of meat, it will always cook more evenly, so my advice is to do it. Salt... there are many people who salt beef in advance, but for me with beef like this, it should be right at the last minute." 
 
Resting - "You want to really give the meat chance to rest as it will ultimately be much better to eat and will have a perfectly even finish. Don't panic about it being cold, it will hold heat longer than you think." 
 
Serving - "Only extra tip for serving is you've only seasoned the outside at this point so give the slices a sprinkle of sea salt."
Dome Bundle Link
Dome Bundle Link 1
Regular price CAD $2,757.00CAD $2,499.00
Pizza Server Link
Pizza Server Link 1
Regular price CAD $49.00Prices from CAD $39.20
Ingredients
200g/7 Oz beef trimmings (ask your butcher if you don't have any)

1 tbsp beef fat (or oil)

2 medium onions

2 carrots

1 leek
3 sprigs thyme

2 garlic cloves

100ml/3.4 fl Oz. port

300ml / 10.1 fl Oz. red wine

800ml / 27 fl Oz. good quality beef stock - the stuff you buy in bags that's like jelly if you can't make your own.
Salt to taste

Sherry vinegar/lemon juice to taste
1 large head of cauliflower cut into florets

Bechamel sauce

50ml / 1.7 fl Oz double cream

1 tsp English mustard

A few grates of nutmeg (optional)
180g /6.3 Oz strong sharp cheddar

A little olive oil

Salt/pepper
Makes 6-8 medium sized Yorkshire puddings
3 large eggs

100g/3.5 Oz plain flour

250ml8.5 fl Oz. whole milk
1 tsp salt

1 tsp white pepper

Beef dripping or veg oil
Show more
Step 1:
 Crack the eggs into a bowl and lightly beat them. Next, add the flour and whisk to a thick paste. Add 1/2 of the milk and whisk through before adding the 1/2 half and doing the same. Season with salt and pepper, then transfer to a jug and rest in a fridge for 2 hours.
Step 2:
To prepare the gravy base, take a pre-heated cast-iron pan and add the carrots, leeks, thyme and garlic. Soften all the vegetables well, then place back in the Dome at around 200°C/400°F.
Step 3:
Once softened, remove from the Dome, add the red wine, beef stock and Worcestershire sauce. Place back into the Dome to reduce down. Once reduced, remove and place to one side for later.
Step 4:
To create the cauliflower cheese, start by roasting the cauliflower with a drizzle of oil and some seasoning at around 250°C/482°F in the Dome for around 10 minutes. This will give you a much better flavour than boiling it. Remove from the Dome and place the cauliflower into a bowl.
Step 5:
Pour over the bechamel sauce, cheese and cream. Set aside in another dish, grate over some extra cheese and put to one side.
Step 6:
To make the carrots, warm some beef dripping, thyme and salt and pepper in a pre-heated cast-iron pan. Add in the carrots and place them into Dome to soften.
Step 7:
For the meat, cover the beef in oil and sear in a pre-heated cast-iron pan. Place this into the Dome to sear all the way round at 300°C/575°F. Remove from the oven and suspend the meat on a wire rack in the pan, before placing back into the Dome at around 270°C/518°F. Cook to temperature not time. For a medium-rare, remove it from the oven at around 42°C/107°F. Remove the meat and let it rest.
Step 8:
Deglaze the pan with red wine and strain the gravy base from earlier on into the red wine / beef juices.
Step 9:
To cook the Yorkshire puddings, take a muffin style tray and add a knob of beef dripping into each hole. Melt the dripping and heat the pan in the Dome. Once piping hot, remove and carefully pour the mix into the middle of the fat and fill the gaps halfway up.
Step 10:
Place back into the Dome at around 200°C/400°F, no flame, door on for 20-25 minutes. Once risen, remove from the oven.
Step 11:
Finish off the cauliflower cheese by placing into the Dome at 200°C/400°F and cooking until heated through and golden. Create the roast potatoes.
Step 12:
Take the carrots form earlier on and drizzle over some honey.
Step 13:
It's time to serve up the roast family style. Slice the beef and layer out on the platter. Serve with the roast potatoes, carrots, cauliflower cheese and Yorkshire puddings, with gravy on the side. Enjoy!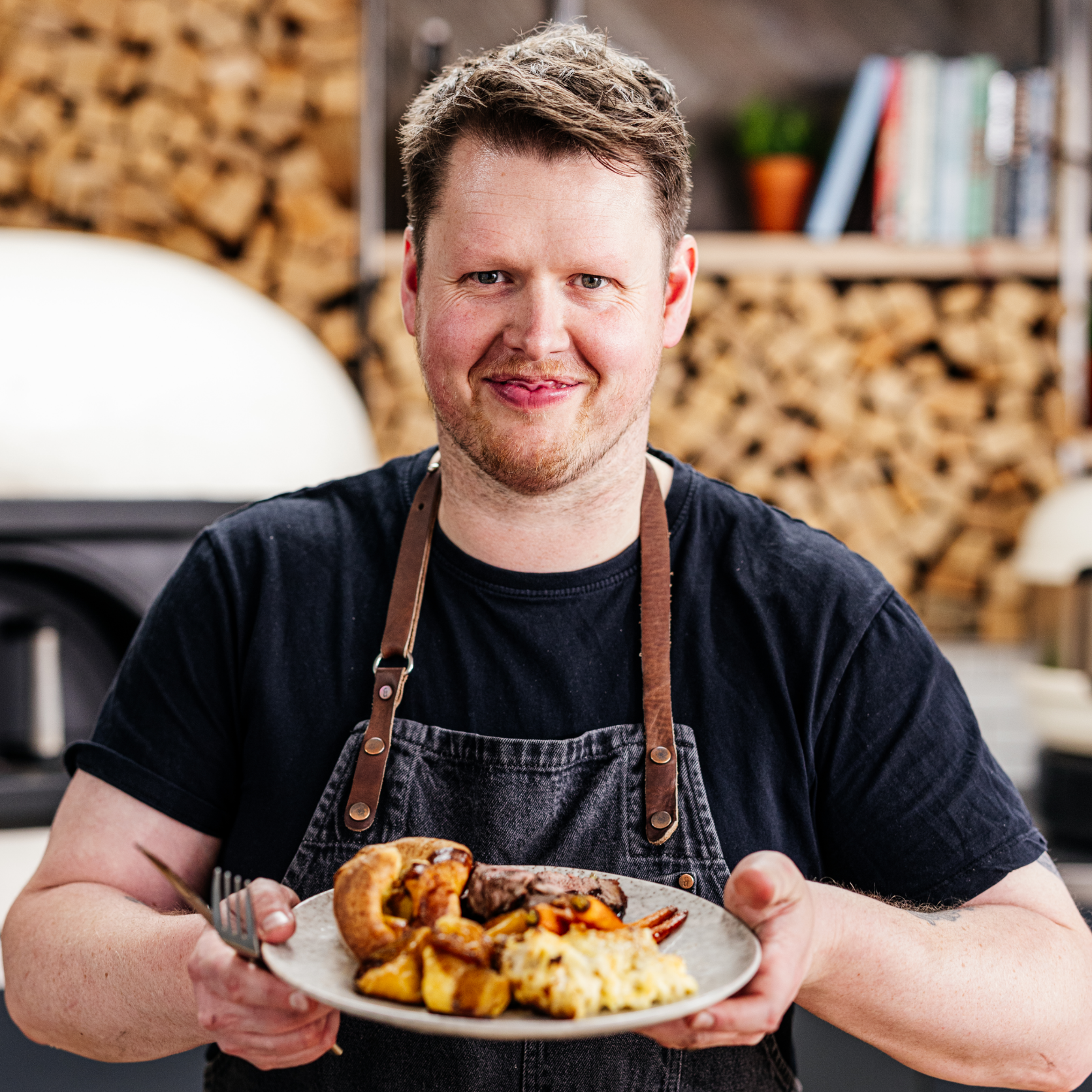 Recipe Contributor
Thomas Bateman
Thom Bateman is the Chef Patron of the Flintlock at Cheddleton in Staffordshire which was recently awarded 2 AA rosettes. He's also a big hit on TikTok, sharing recipe inspiration to a loyal following of over 2.5 million people.