Grandma Style Pizza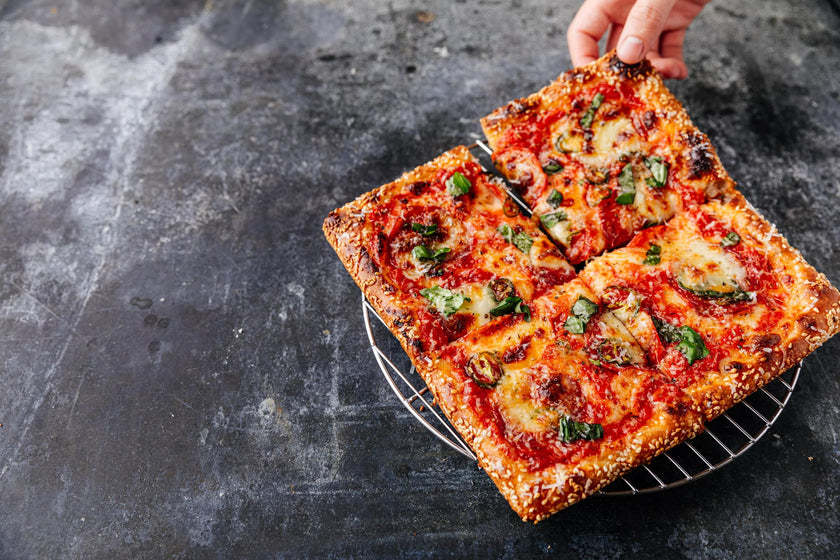 Grandma pie, the nostalgic Italian-American pizza, that originated in New York. Watch @pizzawithperez put his spin on your next favorite pizza style. ⁠
Ingredients
1⁄2 teaspoon oil of your choice (olive/canola)
Sesame seeds 2-4 teaspoons (optional but highly recommended)
Show more
Step 1:
Using a proofed dough ball, coat the pan with a bit of oil and add the dough to the pan. Then add sesame seeds to the dough. Using oiled hands begin pressing out the dough, working the seeds into the dough then flip the dough in the pan so that the seeded side becomes the bottom of the pizza. Begin pan stretching and working the dough towards the corners of the pan. Repeat this method 4-5 times at 5 minute intervals (cover in between stretches). As soon as the dough has reached and filled all 4 corners of the pan, add sesame seeds along the perimeter of the pizza so that you have a sesame seed crust.
Step 2:
Top with sliced mozzarella, then spread and even layer of crushed tomatoes, top with pepperoni, jalapenos and 5 cubes of fresh mozzarella (one cube in the center and 1 at each corner). Drizzle a bit of olive oil around the perimeter of the crust prior to covering with a lid or foil.
Step 3:
When you have topped the pizza cover (with foil or a lid), place the pan in your Gozney Dome to begin baking the pizza (with a low flame) at 300-350°C/575-600°F. Bake covered on the side opposite of the flame for about 6 total minutes while rotating the pizza 90 degrees every 1.5 minutes. After 6 minutes has elapsed, remove the lid and continue to bake another 4-5 minutes rotating the pizza 90 degrees every minute. The crust should be a deep golden brown when complete (if you feel it need more colour turn the flame to high to achieve more colour in the final minutes of baking).
Step 4:
When the pizza is at your desired level of cooked, remove from the pan immediately and rest for 1 minute on a cooling screen.
Step 5:
Cut into 4-6 pieces. Garnish with basil, oregano, Pecorino Romano, and a drizzle of chili infused honey.
Step 6:
Serve and enjoy!
[step6]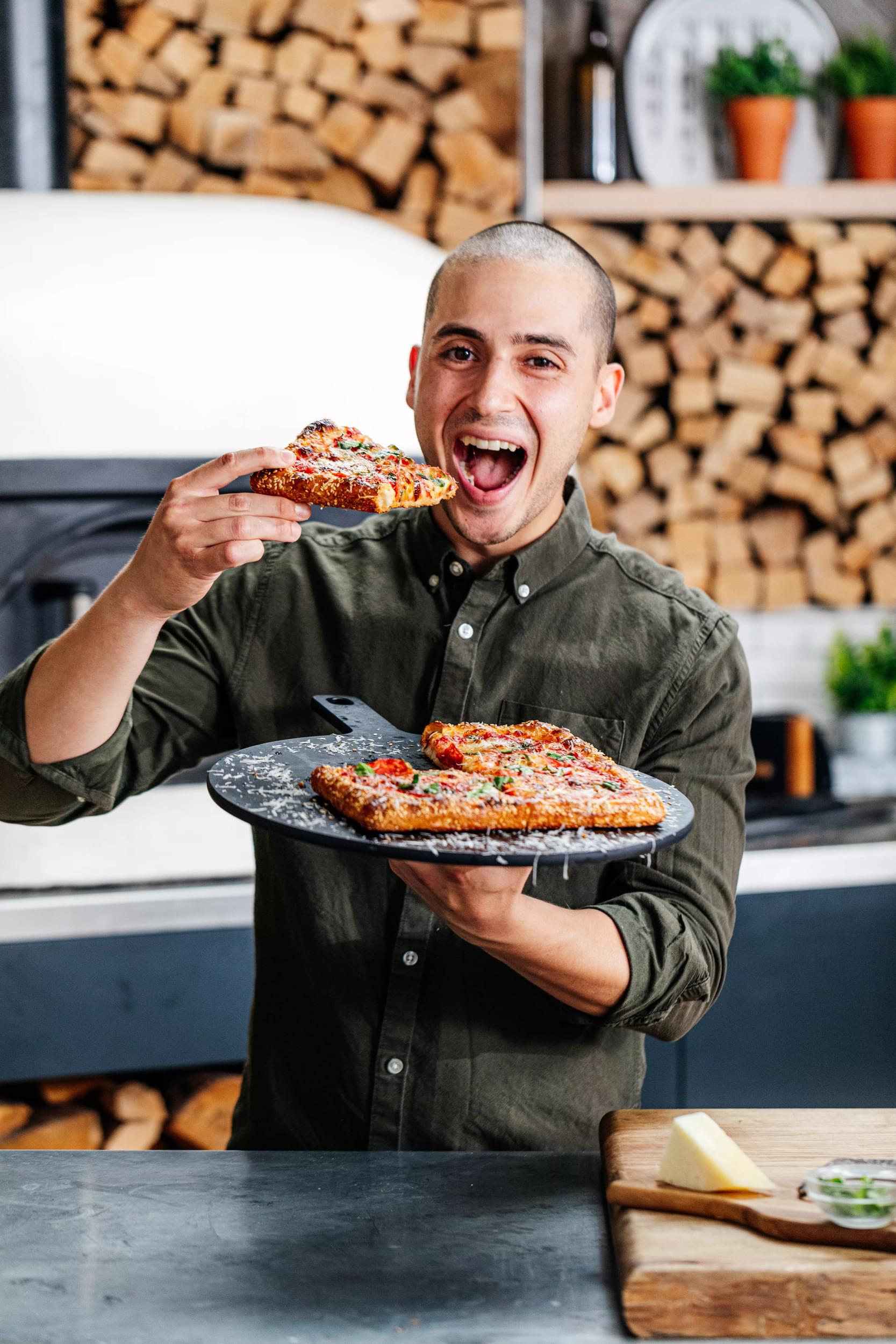 Recipe Contributor
Luis Perez
Luis Perez (aka @pizzawithperez) is the founder and pizza king at Peels On Wheels Pizza in Rochester, New York. Luis created Peels On Wheels in the Summer of 2019. Growing up in the South Bronx, pizza was a huge part of daily life for Luis. After a career hiatus from pizza, Luis found himself missing the pizza industry and decided to start his own pizza business.