Naan Pizza Recipe | Gozney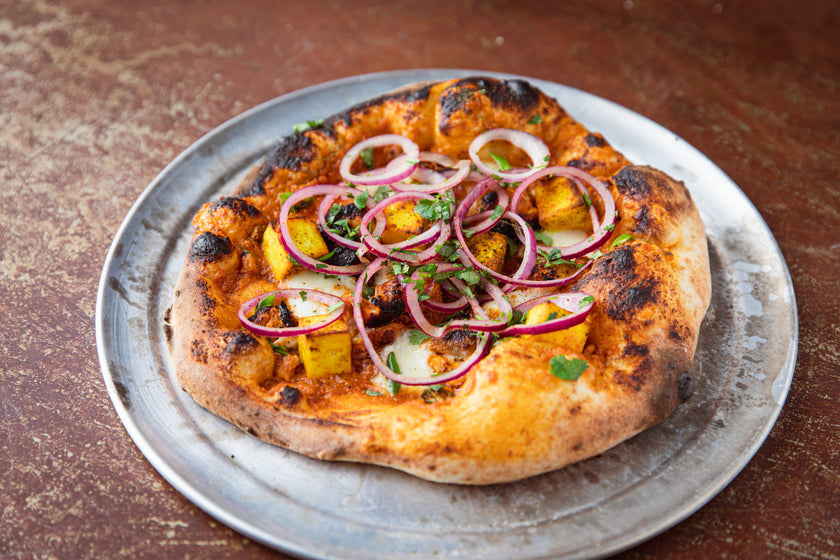 We welcomed Karan Gokani (@karancooks) to the Gozney Kitchen to cook up one of his favourites – chicken tikka with a rich makhani sauce on a naan dough base, a combination of his love of North India and everyone's love... pizza.
For the dough
1. Mix all the dry ingredients in a bowl. Add the milk, oil, yoghurt and mix well. Then slowly add the water and stop adding any more when the dough begins to feel sticky.
2. Knead well for 10-15 minutes to achieve a soft supple dough that doesn't stick to your hands at all when worked.
3. Place the dough in an oiled bowl and cover with clingfilm. Rest at room temperature for 1 hour.
4. After an hour, divide the dough into 3 equal balls and place on a tray and cover tightly with clingfilm. Refrigerate overnight.
5. Remove and bring to room temperature for 2-2.5 hours until well risen and almost doubled in size.
For the Makhani / Butter chicken sauce
1. Heat the oil and butter in a heavy bottomed saucepan over medium-high heat.
2. Fry the onions and whole spices with a pinch of salt until the onions are golden brown but still soft and not crisp. About 8-10 minutes.
3. Add the ginger and garlic and continue cooking for 4-5 minutes.
4. Add the spice powders with a splash of water. Cook for 30 seconds and add the tomato sauce.
5. Cover and cook on medium heat for 8 minutes, stirring often until the sauce is thick and the fat rises to the top.
6. Pour in the cream and stock and cook for 8-10 minutes on low heat.
7. Add the kasoori methi, stir through, check seasoning, adding salt and honey as required.
8. Cool to room temperature before using on pizza, or add some chicken tikka, paneer or vegetables to it and enjoy as a curry.
For the Chicken Tikka
1. Add ½ tbsp each of ginger and garlic paste, along with the lime juice and ½ tsp salt to the chicken pieces and refrigerate for 30 minutes to an hour.
2. Mix the remaining ingredients for the marinade and add the chicken to it. Store covered in the fridge for at least 3 hours, but ideally overnight.
3. Skewer the chicken and place them in a cast iron pan which has been preheated to about 250°C in the Roccbox.
4. Place in your Gozney pizza oven set on the lowest flame setting for 8-10 minutes, checking every 2-3 minutes and rotating the skewers or the pan if necessary.
5. You want the chicken to char in spots, but if it starts getting too dark, turn off the flame and leave it in the oven for a few minutes longer as it will continue to cook in the residual heat without charring further.
6. After about 10 minutes, remove the chicken and check the thickest pieces in the middle of the skewer for doneness.
7. Garnish with a generous drizzle of ghee or melted butter and freshly chopped coriander leaves. Serve with a wedge of lime and some thinly sliced red onion rings on the side.
For the pizza
1. Using plenty of dry flour, open each dough ball as you would a pizza. Note the dough will feel tighter than plain pizza dough and need a good stretch.
2. Top with a ladleful of Makhani Sauce (at room temperature).
3. Sprinkle over some pieces of roughly chopped chicken tikka, paneer pieces marinated in a pinch of garam masala and turmeric, mozzarella cheese and freshly cut green chillies.
4. Cook the pizza for about 2 minutes in the front of the pizza oven at 450°C, reducing the flame if the crust begins to burn.
5. Remove and top with some roughly chopped coriander leaves and thinly sliced red onions tossed with chaat masala and lime juice.
For the Dough (inspired by a naan dough)
300g 00 flour
¼ tsp (1.5g) baking powder
Small pinch (approx. 1/8 tsp or 0.3g) fast action dried yeast
8g sugar
4g salt
10g rapeseed or sunflower oil
90g whole milk
65g Greek yoghurt
40-45g water
For the Makhani/Butter Chicken Sauce
3 tbsp butter
1.5 tbsp oil (rapeseed, or vegetable, anything neutral flavoured)
1 small onion, peeled and finely chopped
½ tbsp garlic paste
½ tbsp tbsp ginger paste
4 pods green cardamom
6 cloves
1 piece mace, optional
2 tsp Kashmiri chilli powder
1 tsp ground coriander powder
200ml carton single cream
400g tin chopped tomatoes (blitzed to a paste)
1 tbsp honey, or more to taste
1 tsp kasoori methi
Sea salt, to taste
For the Chicken Tikka
500g chicken thighs, boneless and skinless, cut into 2-inch cubes
1 tbsp ginger paste (store bought is fine, else peel and blend some ginger with a splash of water in a blender. It stores for weeks in the fridge.)
1 tbsp garlic paste (store bought is fine, else peel and blend some garlic cloves with a splash of water in a blender. It stores for weeks in the fridge.)
300g Greek yoghurt
2 tbsp Kashmiri chilli powder (or unsmoked paprika)
1 tsp garam masala
½ tsp kasoori methi (dried fenugreek leaves)
2 tbsp cheddar cheese
2 tbsp oil (mustard is great, but hard to find, so substitute with any neutral oil. NOT olive oil.)
Juice of ¼ lime
1 tsp salt
For the toppings
Makhani Sauce
Green Chillies
Scarmoza or Mozzarella
Red Onions
Fresh Coriander
Chaat Masala
Lime