New Haven Style Pizza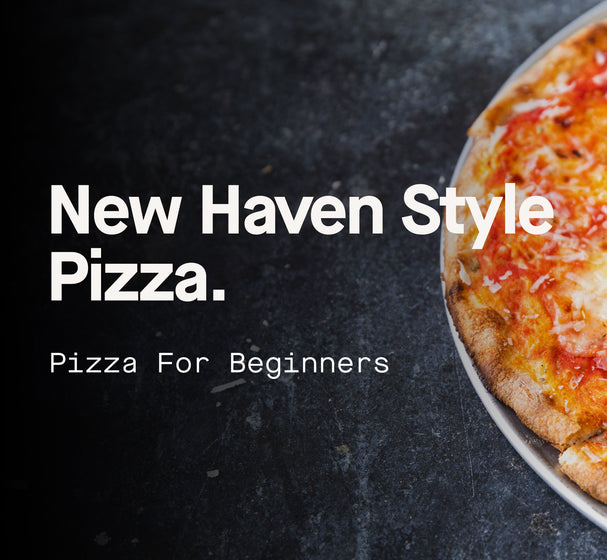 The latest in our #NationalPizzaMonth dough recipes. Don't mess with New Haven, Connecticut, and their claim on the pizza world. Learn to make New Haven style dough with Luis Perez (@pizzawithperez).
Ingredients
•All Purpose flour 900g/31.7 oz (11.75% Protein)
•00 Flour – 100g/3.5 oz (12.5% Protein)
•Instant or Active dry yeast –4g/0.14 oz.
•Preferment –150g/5.29 oz.(Poolish or Sourdough)
•Ice cold water 560g/20 oz.(Divided into 85%/5%/10%when using a mixer476g/28g/56g)
•Sliced aged mozzarella 100g/3.5oz
•Fresh mozzarella 30g/1 oz (cubed)
•Extra virgin olive oil to garnish
•Pecorino or Parmigiano Reggiano to garnish
Show more
New Haven Style Pizza Dough
Step 1:
Add all the flour and yeast into the mixer bowl then mix on low for 2 minutes.
Step 2:
Gradually add 476g of water and continue to mix on lowest speed until it begins to combine.
Step 3:
Once a mass is formed (after about 4-5 minutes of mixing) add the poolish and continue to mix on the lowest speed.
Step 4:
Begin to slowly incorporate 28g of water to collect any unmixed flour in the bowl.
Step 5:
Increase the mixer speed to 50% and add the salt.
Step 6:
Increase the speed to 75% and gradually add the remaining 56g of water. Stop the mixer when the water has absorbed, and the dough is smooth.
Step 7:
Allow the dough to rest for 5 minutes before removing from the mixer.
Step 8:
Divide and ball the dough into 250g/8.8 oz balls, place on a tray, cover and refrigerate for 24-48 hrs.
Step 9:
Allow the balls to come to room temperature for 2 to 3 hours before baking.
Making & Baking
Step 1:
Preheat your Gozney Pizza Oven stone opposite the flame to 650°F/340°C. Press and open the dough into a 10-12" circle, degassing the dough completely to the Edges. Place onto a floured peel.
Step 2:
Top and launch the pizza into your Gozney Dome. Bake with a low flame turning 90 degrees every 30-45 seconds for 3-4 minutes.
Step 3:
For the final minute of baking, turn the flame to high to obtain more colour. Turn the pizza frequently.
Step 4:
Transfer to a cooling rack and rest for around 1 minute before cutting.
Step 5:
Garnish with oregano, extra virgin olive oil and Pecorino Romano pizza.
Step 6:
Slice and enjoy!
Gozney pizza oven temperature (in °F & °C): 650°F/340°C with a low flame (deck temp opposite side of flame)°C 330-340with a low flame (deck temp opposite side of flame)
Recipe Contributor
Luis Perez
Luis Perez (aka @pizzawithperez) is the founder and pizza king at Peels On Wheels Pizza in Rochester, New York. Luis created Peels On Wheels in the Summer of 2019. Growing up in the South Bronx, pizza was a huge part of daily life for Luis. After a career hiatus from pizza, Luis found himself missing the pizza industry and decided to start his own pizza business.