Salt & Pepper Wings Recipe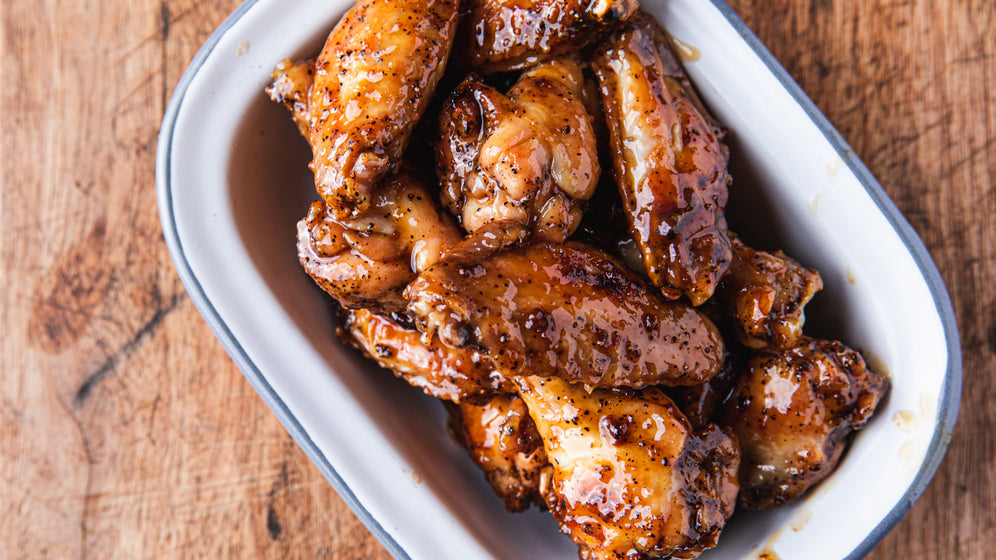 Sticky, salty, sweet, finger-licking chicken wings by Thomas Straker cooked in Roccbox are the perfect addition to any meal or celebration. Seasoned with salt and pepper and tossed in a maple glaze, this insanely tasty recipe requires minimal effort and maximum results.
Ingredients
75g / 2.64oz Butter

75g / 2.64oz Apple cider vinegar
100g / 3.52oz Maple

100g / 3.52oz Chicken stock

Salt

30ml / 1.01fl oz Hot sauce
2kg / 70.54oz Chicken wings

Rapeseed oil

Black pepper

Salt
Show more
Step 1
Add the butter, apple cider vinegar, maple, chicken stock, salt and hot sauce to a saucepan and bring to the boil over a hob. Cook until you have a nice thick glaze.
Step 2
Set your Gozney outdoor oven to the lowest gas mark.
Step 3
Cut the wings into flats and drums.
Step 4
Toast the peppercorns in a pan and then crush them in a pestle and mortar.
Step 5
Toss the wings in oil and season with salt and crushed pepper.
Step 6
Place the wings on a baking tray well-spaced out and bake them in the Gozney Roccbox or Dome until light golden on the top side, turning the pan as required.
Step 7
When the wings are browning on top, turn each wing individually and colour the underside, repeat once more.
Step 8
When the wings are cooked, place in a bowl and toss with the maple glaze.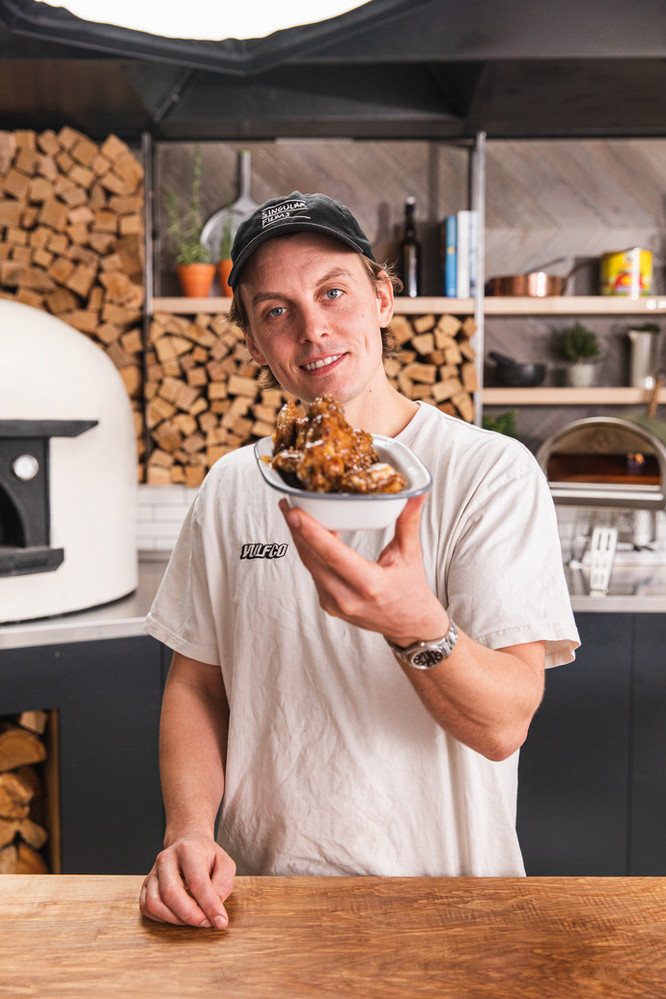 Recipe Contributor
Thomas Straker
Having spent the last decade working in some of London's top restaurants, Tom is now on a mission to bring simple but outrageously tasty, high-quality cooking into people's homes.