The skirt steak here is full of flavour – the acid in the lime will begin to break the meat down and ensure the flavorful marinade is really absorbed!   
Skirt Steak Fajitas with Cherry Tomato Salsa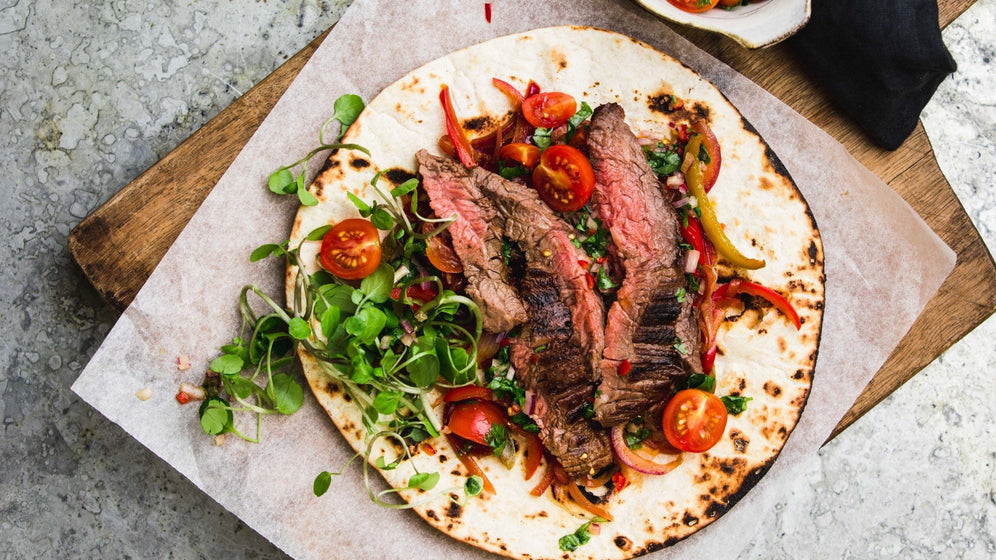 This technique (coupled with the speedy cooking in Roccbox!) make these a great, quick mid week dinner as well as being impressive enough to serve at a party…
Step 1;
Combine the marinade ingredients in a bowl and set half of this aside for later. Pop the steaks in the remaining marinade ensuring they are well coated and leave for around 6-8 hours.
Step 2;
When ready to cook, grab the marinated steaks out of the fridge to come up to room temperature as you light up Roccbox and pop the sliced vegetables in the reserved marinade to take on some of that beautiful flavour.
Step 3;
To make the salsa, combine the ingredients in a bowl with a little seasoning and the roughly chopped coriander (reserve the picked leaves for garnish) and pop onto your table for later.
Step 4;
Heat a cast iron pan in Roccbox with a drizzle of olive oil, shake the excess marinade off the steaks, season with a little salt and cook for around 3 minutes on one side, flip over for a further 2-3 minutes, check the steaks are cooked to your liking and leave to rest.
Step 5;
Using the same pan, throw in the marinated vegetables and cook, shaking regularly until charred and softened.
Step 6;
Finally, heat the tortillas lightly and slice the steaks thinly against the grain before wrapping it all up and getting stuck in!
For the marinade;
125g Soy Sauce
125g Sunflower Oil
60g Soft Brown Sugar
6 Limes, juiced
2 Tsp Ground Cumin
2 Tsp Smoked Paprika
1/2 Tsp Chilli Flakes
4 Cloves of Garlic, crushed
For the steaks;
4 8oz Skirt Steaks
1 Red Pepper, deseeded and sliced
1 Yellow Pepper, deseeded and sliced
1 Green Pepper, deseeded and sliced
1 Red Onion, sliced
8 Flour Tortillas
For the cherry tomato salsa;
250g Cherry Tomatoes, quartered
1 Small Red Onion, finely diced
1 Large Red Chilli, chopped
1 Lime, juiced
4 Tbsp Olive Oil
1 Bunch of Coriander, half roughly chopped, half leaves picked